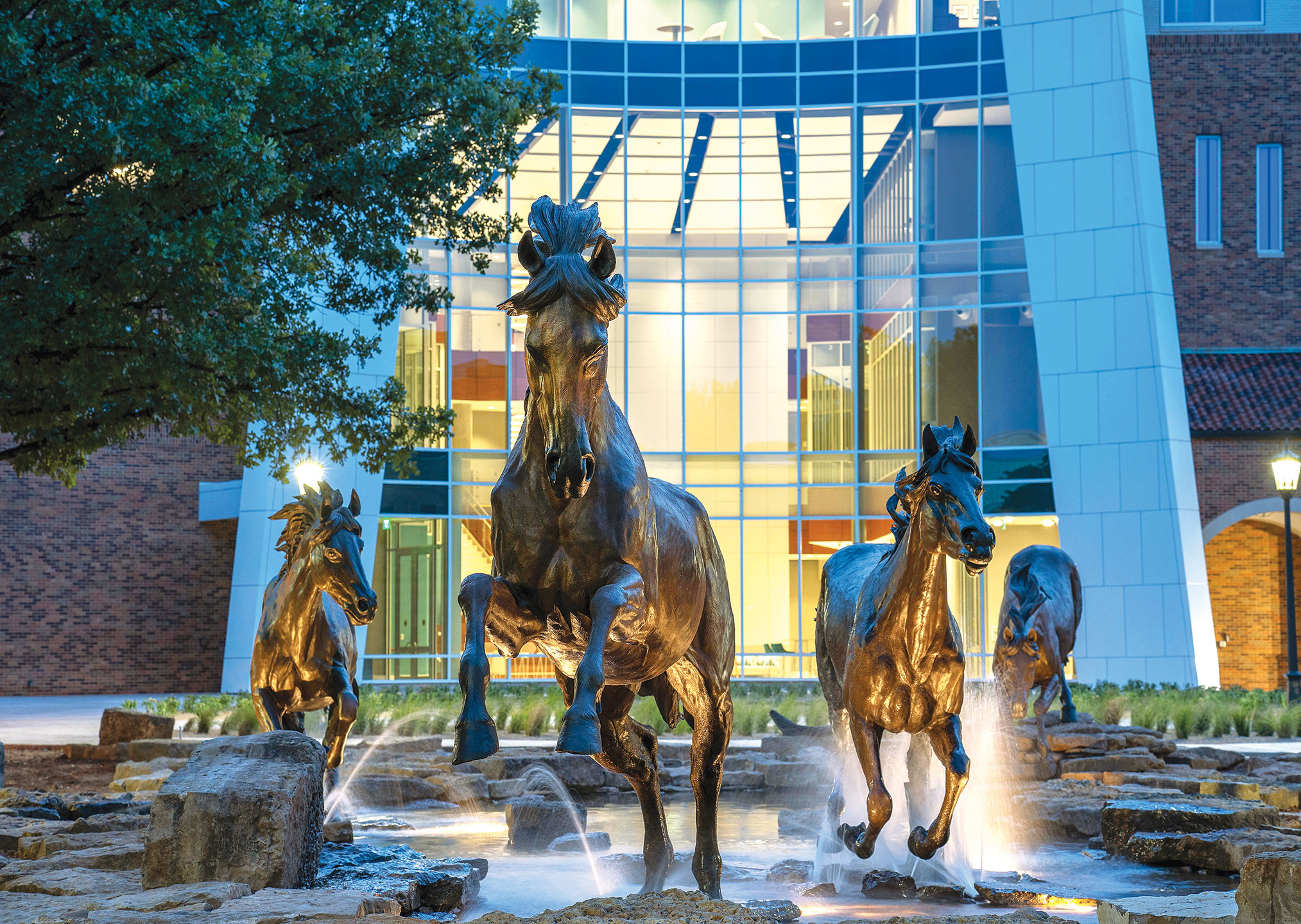 Course : Sectional Anatomy
Final Exam Day/Time

Monday, December 05, 2022

8:00 am
Course Objectives

Radiologic technologists should demonstrate increased awareness of how the human body is arranged three-dimensionally. This course provides opportunities to recognize relationships between standardized anatomical structures prior to working with variations found in "live" patients.

Upon completion of this course, a student will:

Recognize anatomic structures in various planes.
Relate planar anatomy to line drawings of related cross-sectional anatomy.
Describe the spatial relationship of one structure to another.
Differentiate between the appearances of anatomic structures among different modalities such as Computed Tomography. (CT) and Magnetic Resonance Imaging (MRI).
Identify the strengths and weaknesses of each imaging modality for identifying specific pathological processes.




Campus Carry

Effective August 1, 2016, the Campus Carry law (Senate Bill 11) allows those licensed individuals to carry a concealed handgun in buildings on public university campuses, except in locations the University establishes as prohibited. The new Constitutional Carry law does not change this process. Concealed carry still requires a License to Carry permit, and openly carrying handguns is not allowed on college campuses. For more information, visit Campus Carry.

Active Shooter

The safety and security of our campus are the responsibility of everyone in our community. Each of us has an obligation to be prepared to appropriately respond to threats to our campus, such as an active aggressor. Please review the information provided by MSU Police Department regarding the options and strategies we can all use to stay safe during difficult situations. For more information, visit Safety / Emergency Procedures. Students are encouraged to watch the video "Run. Hide. Fight." which may be electronically accessed via the University police department's webpage: "Run. Hide. Fight."

Modules

The course content is divided into eight (8) individual Modules. Each module contains a study guide and associated quiz. The course content is divided into modules by chapters. Additional resource material is available through the Internet.

See the Course Schedule at the end of this syllabus for all deadlines.

Module Reading

| Module | Content and Chapter |
| --- | --- |
| Module 1 | Introduction to Multi-planar Anatomy |
| Module 2 | Cranium and Facial Bones |
| Module 3 | Brain |
| Module 4 | Spine and Neck |
| Module 5 | Thorax |
| Module 6 | Abdomen |
| Module 7 | Pelvis |
| Module 8 | Extremities |

With each module there are interactive labeling activities to reinforce your learning. Although the labeling activities are not graded, they are highly recommended. You may attempt these as many times as needed, and you may refer back to them at any time during this course.

Once you feel comfortable with the module notes, the associated pages in your textbook, and the learning activities, you should complete the associated module exams.

Independent Reading Assignments

Students should complete the reading assignments listed in the module notes, and answer the chapter objectives before taking the open book module quizzes. See the Course Schedule at the end of this syllabus for specific information about module quiz due dates.

The illustrations in the text are orientated in the same direction as CT and MR scans. The course includes images that are coronal (front to back), sagittal (side to side), as well as axial or transverse (top to bottom). While the text is more or less self-explanatory, the individual modules in the course begin with diagrams relating to planar anatomy. These diagrams are included to assist the student in becoming familiar with the relationship between the anatomical structures when viewed in cross-sectional orientation.

Module Quizzes -35%

When a student has reviewed a module and is ready for the quiz, he or she will log on to D2L and receive a customized timed module quiz consisting of randomized multiple choice and/or matching questions. It is important to know the module content before attempting the module quizzes because they are timed. Quiz questions will be from information learned in the modules and reading. Review the important key items and the objectives before attempting a quiz.

Be sure to start the quizzes well in advance of the close time for the exams. If you are not finished by the time the exam period closes, the exam you are working on will shut down even if you have not finished. Also, save your answers continuously to avoid losing your answers.

Due dates

All quizzes are open the day that classes begin, so you may work ahead but you must complete the first quiz before other quizzes can be accessed. When one quiz is completed, you will have access to the next quiz. Quizzes not completed by the final due date, will receive a zero (0). Under no circumstances will an extension be made to incomplete quizzes not completed by the close date. Students should contact the instructor in extenuating circumstances before the close date of the quizzes; such cases will be dealt with on an individual basis (see the section on late work). All quizzes must be completed before taking the Final Exam. See the course schedule for the due dates for the quizzes.

Technical problems

If technical issues occur (cannot see an image, cannot see your grade, etc.) sometimes the easiest solution is to see if the issue can be corrected by simply changing browsers. Fewer occurrences have been noted by using Firefox or Chrome as a browser for D2L.

If students have technical difficulties during a quiz, they should use the Help link in D2L, contact the MSU Information Systems Support Staff, and send an email to the course instructor explaining what happened. Screen shots and/or taking a picture of your screen may help in diagnosing the problem.

Scores

If a student finds a faulty quiz test item or believes that a quiz question has been scored incorrectly, he or she should send an email to the course instructor that includes the following:

Module Quiz Number (1 -5)
Answer the Student Thinks Should be Correct
Rationale Supporting Why the Student's Answer is Correct
Page numbers must be included when referencing the textbook in rationale

After reviewing the case, if the course instructor thinks a revision is justified, the student's quiz score will be revised to reflect the additional points and the test bank will be updated.

Grading

Assignments will be graded in a timely manner after the published due dates. The professor will not grade assignments early nor will be professor "pre-grade" assignments. The professor is committed to your education and will answer relevant questions about course topics so long as such answers do not compromise specific assignments or specific test question.

Grade distribution

35% D2L open book module

quizzes (4.375% each quiz x 8 modules)

25% Sectional Anatomy PowerPoint Assignment

40% Proctored D2L comprehensive closed book final

exam

Grade Scale

A = 100 - 90

B = 89 - 80

C = 79 - 70

D = 69 - 60

Grade Rounding

The professor will round up a course grade that is greater than 0.5 points from the next level.

Final Course Grade

A final course score 70 is required to pass this course. Letter grades of "D" or "F" cannot be used for graduation and will require the course be repeated according to the current department policies.

The last date to withdraw from this course and receive a grade of "W" is Thursday, July 11th at 4:00pm CST. All withdrawals must be initiated by the student. After this date dropping the course results in a grade of "F".

N/A. This is an on-line course

Due Dates. Assignments and quizzes must be submitted by 23:59 (11:59 pm) Central time, on scheduled due dates in the course schedule. If a student fails to meet a deadline the student will receive no (0) credit for the assignment not submitted on time.

Emergency Extension. If you have a major event such as a death in the family, illness, hospitalization, or other extenuating circumstances, email the instructor at robert.comello@mwsu.edu as soon as possible on or before the scheduled due date. All course work must be completed in the semester the course is taken. The professor does not give incomplete grades.

Note: You may not submit a paper for a grade in this class that already has been (or will be) submitted for a grade in another course, unless you obtain the explicit written permission of me and the other instructor involved in advance.

Plagiarism is the use of someone else's thoughts, words, ideas, or lines of argument in your own work without appropriate documentation (a parenthetical citation at the end and a listing in "Works Cited")-whether you use that material in a quote, paraphrase, or summary. It is a theft of intellectual property and will not be tolerated, whether intentional or not.

Student Honor Creed

As an MSU Student, I pledge not to lie, cheat, steal, or help anyone else do so."

As students at MSU, we recognize that any great society must be composed of empowered, responsible citizens. We also recognize universities play an important role in helping mold these responsible citizens. We believe students themselves play an important part in developing responsible citizenship by maintaining a community where integrity and honorable character are the norm, not the exception.

Thus, We, the Students of Midwestern State University, resolve to uphold the honor of the University by affirming our commitment to complete academic honesty. We resolve not only to be honest but also to hold our peers accountable for complete honesty in all university matters.

We consider it dishonest to ask for, give, or receive help in examinations or quizzes, to use any unauthorized material in examinations, or to present, as one's own, work or ideas which are not entirely one's own. We recognize that any instructor has the right to expect that all student work is honest, original work. We accept and acknowledge that responsibility for lying, cheating, stealing, plagiarism, and other forms of academic dishonesty fundamentally rests within each individual student.

We expect of ourselves academic integrity, personal professionalism, and ethical character. We appreciate steps taken by University officials to protect the honor of the University against any who would disgrace the MSU student body by violating the spirit of this creed.

Written and adopted by the 2002-2003 MSU Student Senate.

The Americans with Disabilities Act (ADA) is a federal anti-discrimination statute that provides comprehensive civil rights protection for persons with disabilities. Among other things, this legislation requires that all students with disabilities be guaranteed a learning environment that provides for reasonable accommodation of their disabilities. If you believe you have a disability requiring an accommodation, please contact the Disability Support Services in Room 168 of the Clark Student Center, (940) 397-4140.

The professor considers this classroom to be a place where you will be treated with respect as a human being - regardless of gender, race, ethnicity, national origin, religious affiliation, sexual orientation, political beliefs, age, or ability. Additionally, diversity of thought is appreciated and encouraged, provided you can agree to disagree. It is the professor's expectation that ALL students consider the classroom a safe environment.

All instructors in the Department have voicemail in their offices and MSUTexas e-mail addresses. Make sure you add your instructor's phone number and e-mail address to both email and cell phone lists of contacts.

All students seeking a Bachelor's degree from Midwestern State University must satisfy a writing proficiency requirement once they've 1) passed the 6 hours of Communication Core and 2) earned 60 hours. Students may meet this requirement in one of three ways: by passing the Writing Proficiency Exam, passing two Writing Intensive Courses (only one can be in the core), or passing English 2113. If you have any questions about the exam, visit the Writing Proficiency Office website at https://msutexas.edu/academics/wpr, or call 397-4131.

Senate Bill 11 passed by the 84th Texas Legislature allows licensed handgun holders to carry concealed handguns on campus, effective August 1, 2016. Areas excluded from concealed carry are appropriately marked, in accordance with state law. For more information regarding campus carry, please refer to the University's webpage at https://msutexas.edu/campus-carry/rules-policies.

If you have questions or concerns, please contact MSU Chief of Police Patrick Coggins at patrick.coggins@msutexas.edu.