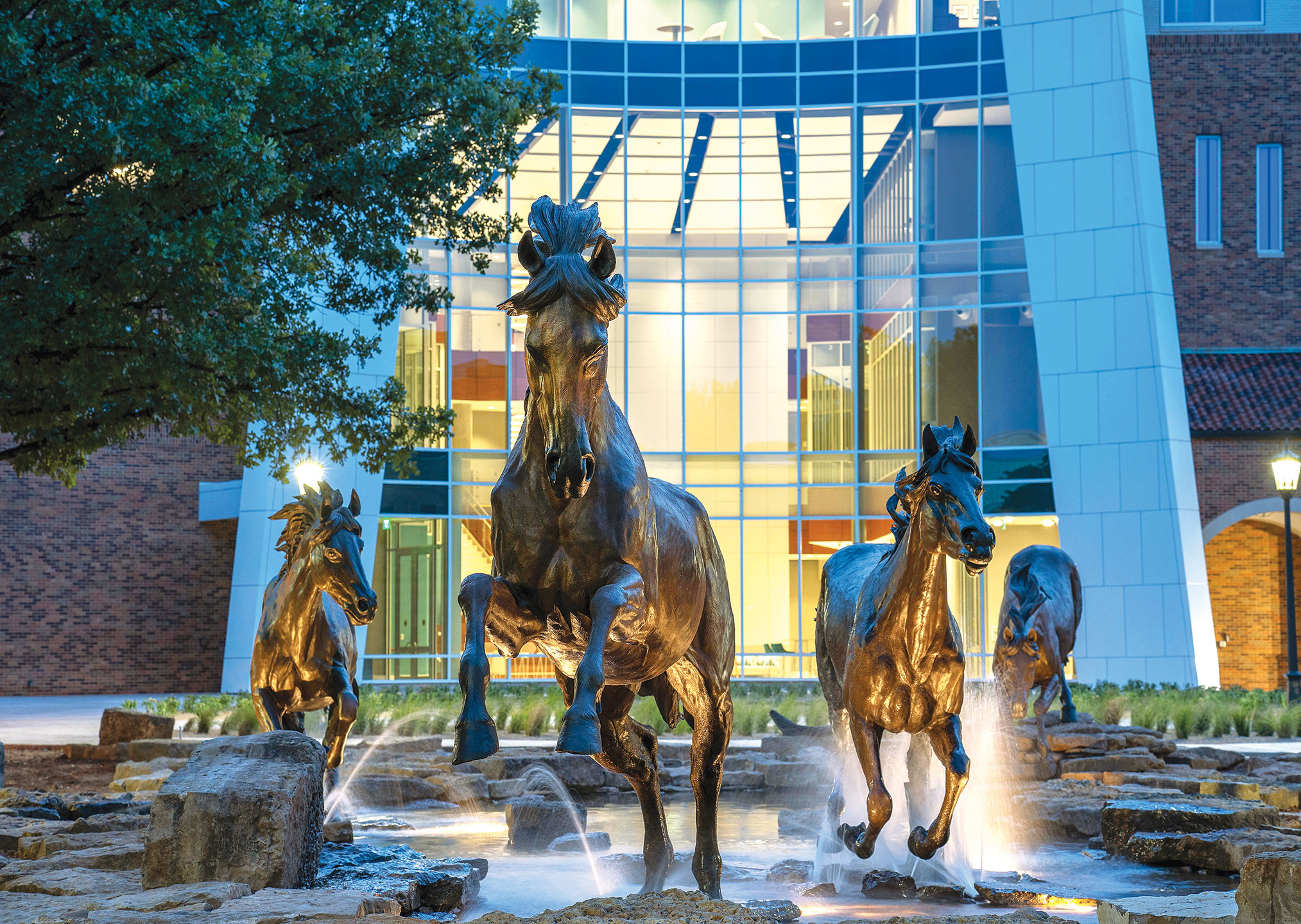 Course : Introductory Chemistry
Location

Dillard College of Business Administration, 178
CHEM 1103 Introductory Chemistry

Syllabus

Instructor: Randal Hallford, Ph.D.

Contact Information: Office 279 Dillard Business College. Phone: 397-4187

email randal.hallford@msutexas.edu

web page: Portal Zoom link: https://msutexas-edu.zoom.us/j/3279133799

Text: Introductory Chemistry. Revell, Kevin. W.H. Freeman publishers ISBN: 1-319-08195-9

Prerequisites: 1) completion of MATH 1003 (intermediate algebra) or the equivalent. 2) A reliable computer with a working webcam and microphone; and internet connection. NOTE: You cannot use a Chromebook for this course.

3) Achieve Homework is required as a separate electronic supplement. See instructions on Portal page for enrollment instructions.

4) Access to Portal at http:// my.msutexas.edu/Communities/Randal Hallford/1103

5) Access to D2L portal Course Page

Assessment:

2 midterm exams @ 100 pts each (44.4%)

1 comprehensive final exam (22.2%)

Homework (10/12) (Achieve) (22.2%)

Writing Project (fall, spring only) (11.2 %)

Course Modules:

*Tentative Lecture Schedule

*The right to alter the schedule as needed is reserved.

Chapters 1,2: Matter, Measurements and Units

Chapter 3: Atoms, Nomenclature

Exam #1

Chapter 4: Quantum Mechanics

Chapters 5: Bonding and Nomenclature

Chapter 6 : Chemical Reactions

Chapters 7: Stoichiometry

Exam #2

Chapters 8: Energy

Chapter 9: Molecular Geometry

Chapter 10: Solids, Liquids and Gases

Class discussion: Environmental Considerations

Chapter 16: Nuclear Chemistry

Final Exam

Calculators with programmable memory capacity, mathematical solution software, and chemistry software are NOT allowed on exams. The use of such a calculator on an exam constitutes cheating. (single-line or double-line scientific calculators are acceptable). I may check the memory of any calculator during an exam. Cell phones may not be used for a calculator. Cell phones, computers, PDA's and other electronic devices are NOT allowed during class. Cell phones must be OFF during any scheduled class period. Having a cell phone or an Apple watch on your person during a test results in a zero for that test.

Note: All exams will be via the Respondus Lockdown browser if the class is online. This means that you must download this browser, make certain it is functional, and during the exam nothing else may be accessed. You must have a webcam that will be active during the exam. At the beginning of each exam you will need to show your ID and the calculator you will use during the test. You cannot use a Chromebook for this course as the electronic format of this course is incompatible with that device.

Grades will be assigned as follows:

A: 90-100%; B: 80-89%; C: 70-79%; D: 55-69%; F: <55%

Under no circumstances will make-up exams or extra assignments be given. One missed exam may be made up based on the comprehensive final exam (substitute final exam score for the missed exam score) if unavoidable medical circumstances exist.

The evaluation of student material is the domain of the instructor. Standard grading policy is followed without exception. Exam errors may be handled by removing the required points from the exam total, but credited if answered correctly for multiple choice format questions. We will adhere to MSU's standard policy. Refer to the MSU website calendar for the final exam date. [http://registrar.mwsu.edu/pdf/acadcal*.pdf]

Questions about the grading of any assignment should be brought to the instructor after the assignment is returned. Scores are reported after each exam.

At the end of the term, a paper on a topic in chemistry – any topic that is actually chemistry- will be accepted as a requirement for this course. The paper is to be written in one of two styles: MLA or APA. You may not plagiarize, but you may use references of which two are not from the internet. You must go to the library, research the topic, and include at least two references from materials found there. You may include a reference from the internet in the style requirement mentioned. The paper is 2000 words long as a minimum; 3000 words as a maximum. This is a graded exercise. Warning: plagiarism software is used to ensure original work.

Note: All materials associated with this course are copyrighted by MSU, the text publisher and the instructors, and may not be published on social media, websites or any other means without the express written permission of MSU, the publishers and the instructor.

Drop Policy: Dropping from the course after the last drop date assigns a grade of F.

Attendance to lecture is required. Missing one (1) lecture in summer terms or three (3) in a regular semester without excuse results in a drop notice. Students are responsible for all material presented in class and in assigned material.[1] Attendance to Zoom or Bright space (Virtual Classroom) lectures will be collected and represents your attendance. A functioning webcam that is turned on for the duration of the lecture is required. Failure to be face-visible during the lecture will result in an absence. Lecture materials available to the student are on the PORTAL page for the instructor. You must join my group before you can access lecture materials. Lectures will be recorded and uploaded to the Portal page.

Studying: It is important to study outside of class on a regular basis; working problems is the best way to learn chemistry.

Cheating on any exam, quiz or lab report will be regarded as academic dishonesty and may be subject to a zero or a final course grade of F. See calculator requirements above.

General Education Statement: Students in this course must demonstrate their competency in reading, writing, and fundamental math skills through satisfactory completion of all assignments.

There will be activities available to reinforce several topics before an examination. These materials will be available on D2L throughout the semester and you will find them in each module (chapter or week heading) listed as an activity. It is highly recommended that you attempt them!

Americans w/ Disabilities Act Compliance: If any student needs special accommodations, the Office of Disabled Student Services Clark Student Center, room 108 (397-4618), and the instructor will provide a reasonable and fair opportunity to perform in this class. Please inform the Student Service as early as possible.

Note: You may not submit a paper for a grade in this class that already has been (or will be) submitted for a grade in another course, unless you obtain the explicit written permission of me and the other instructor involved in advance.

Plagiarism is the use of someone else's thoughts, words, ideas, or lines of argument in your own work without appropriate documentation (a parenthetical citation at the end and a listing in "Works Cited")-whether you use that material in a quote, paraphrase, or summary. It is a theft of intellectual property and will not be tolerated, whether intentional or not.

Student Honor Creed

As an MSU Student, I pledge not to lie, cheat, steal, or help anyone else do so."

As students at MSU, we recognize that any great society must be composed of empowered, responsible citizens. We also recognize universities play an important role in helping mold these responsible citizens. We believe students themselves play an important part in developing responsible citizenship by maintaining a community where integrity and honorable character are the norm, not the exception.

Thus, We, the Students of Midwestern State University, resolve to uphold the honor of the University by affirming our commitment to complete academic honesty. We resolve not only to be honest but also to hold our peers accountable for complete honesty in all university matters.

We consider it dishonest to ask for, give, or receive help in examinations or quizzes, to use any unauthorized material in examinations, or to present, as one's own, work or ideas which are not entirely one's own. We recognize that any instructor has the right to expect that all student work is honest, original work. We accept and acknowledge that responsibility for lying, cheating, stealing, plagiarism, and other forms of academic dishonesty fundamentally rests within each individual student.

We expect of ourselves academic integrity, personal professionalism, and ethical character. We appreciate steps taken by University officials to protect the honor of the University against any who would disgrace the MSU student body by violating the spirit of this creed.

Written and adopted by the 2002-2003 MSU Student Senate.

The Americans with Disabilities Act (ADA) is a federal anti-discrimination statute that provides comprehensive civil rights protection for persons with disabilities. Among other things, this legislation requires that all students with disabilities be guaranteed a learning environment that provides for reasonable accommodation of their disabilities. If you believe you have a disability requiring an accommodation, please contact the Disability Support Services in Room 168 of the Clark Student Center, (940) 397-4140.

The professor considers this classroom to be a place where you will be treated with respect as a human being - regardless of gender, race, ethnicity, national origin, religious affiliation, sexual orientation, political beliefs, age, or ability. Additionally, diversity of thought is appreciated and encouraged, provided you can agree to disagree. It is the professor's expectation that ALL students consider the classroom a safe environment.

All instructors in the Department have voicemail in their offices and MSUTexas e-mail addresses. Make sure you add your instructor's phone number and e-mail address to both email and cell phone lists of contacts.

All students seeking a Bachelor's degree from Midwestern State University must satisfy a writing proficiency requirement once they've 1) passed the 6 hours of Communication Core and 2) earned 60 hours. Students may meet this requirement in one of three ways: by passing the Writing Proficiency Exam, passing two Writing Intensive Courses (only one can be in the core), or passing English 2113. If you have any questions about the exam, visit the Writing Proficiency Office website at https://msutexas.edu/academics/wpr, or call 397-4131.

Senate Bill 11 passed by the 84th Texas Legislature allows licensed handgun holders to carry concealed handguns on campus, effective August 1, 2016. Areas excluded from concealed carry are appropriately marked, in accordance with state law. For more information regarding campus carry, please refer to the University's webpage at https://msutexas.edu/campus-carry/rules-policies.

If you have questions or concerns, please contact MSU Chief of Police Patrick Coggins at patrick.coggins@msutexas.edu.