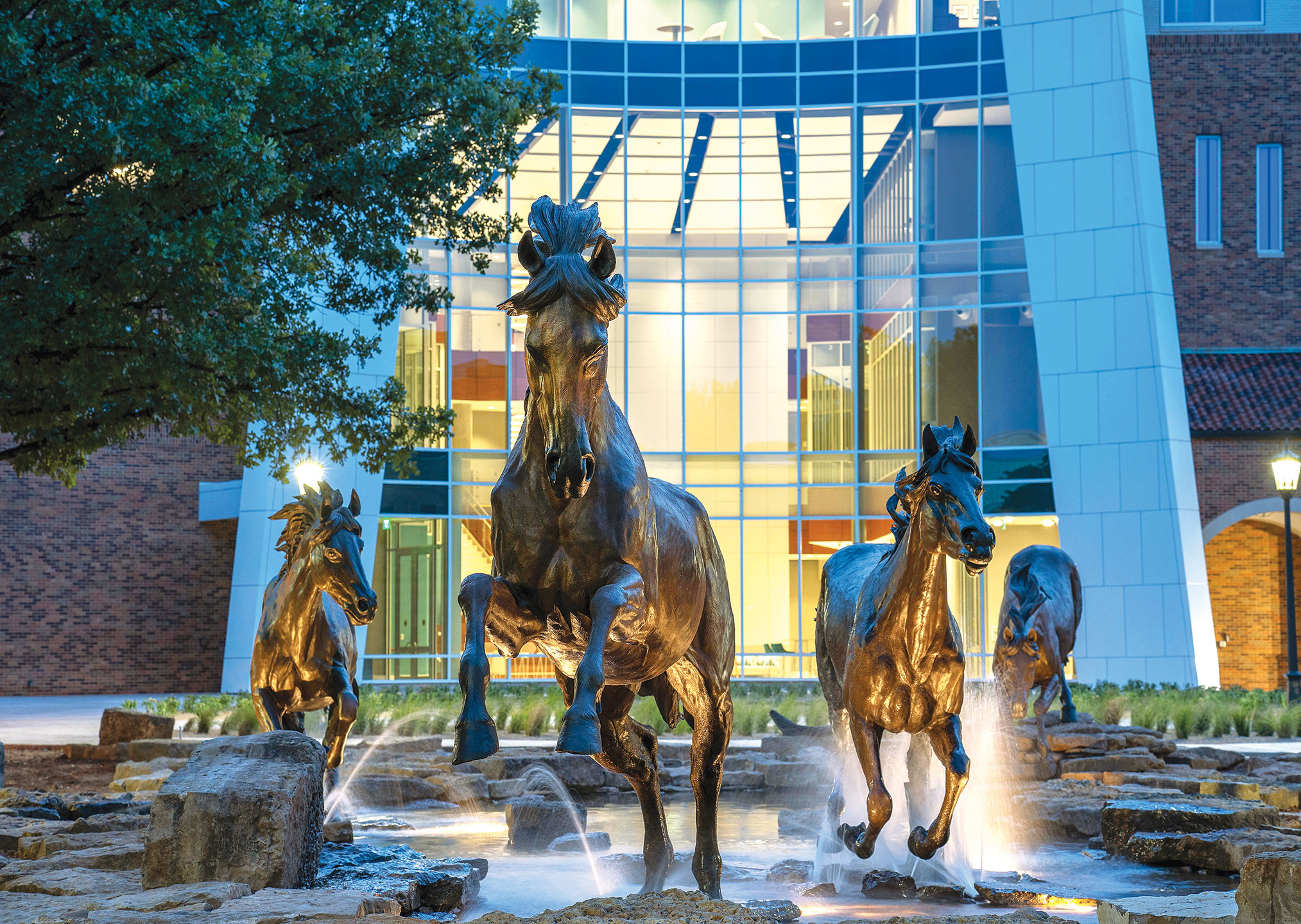 Location

Centennial Hall, On-line
Final Exam Day/Time

Monday, April 19, 2021

12:00 am
Course Objectives

Upon completion of this course, the student will:

Use the measures of central tendency and measures of dispersion.
Use concepts of estimates, relative risk, relative risk reduction, and odds ratios.
Use tests that analyze frequencies, correlations, and differences.
Understand the basic concepts of measurement, sampling, sample size, and sample distribution.
Grasp the general principles of processing and presenting data.
Explain, calculate, and interpret inferential statistics including probability and hypothesis testing.
Correlate the concepts of probability and the normal distribution curve.
Understand the factors that form the basis for hypothesis and statistical testing.
Apply statistical outcomes to processes of quality improvement.
Use statistical outcomes to evaluate effects of treatment.

Class Activities and Assignments

Assignments are a significant portion of the grade and represent application of the material studied. All assignments are to be submitted as instructed in each unit. Points will be deducted for improper format. Proper APA format must be used when appropriate. Plagiarism will be graded harshly. Assignments must be received prior to the deadline. Late assignments are not be accepted beyond the deadline. A zero will be recorded for assignments not submitted or meeting the final deadline. All assignments must be written at the baccalaureate level and will be graded for accuracy, completeness, quality, spelling, grammar, punctuation, and integrity.

Independent Reading Assignments

Unit 1: Chapters 1 and 2

Unit 2: Chapters 3 and 4

Unit 3: Chapters 7 and 8

Unit 4: Chapter 9

Unit 5: Chapters 10 and 11

Unit 6: Chapters 12, 13, and 14

Unit 7: Chapters 15 and 16

Unit 8: Chapters 5 and 6

*Supplemental notes are provided within D2L to complement the reading assignments.

The discussion board is a mandatory component in this course. Assignments are made specifically for this board. Students are expected to write formally (no shorthand or text messaging abbreviations) and use APA format and referencing when appropriate. Thoughtful responses, constructive critique of fellow students, and meaningful participation are expected. Keep in mind the discussion board is a formal assignment and part of your final grade. Review for the grading rubric for each discussion board assignment.

In each of the units, a quiz will be administered within D2L. These quizzes are open book, open notebook, but you will only have one hour to complete them and must be prepared as there will not be enough time to research every answer. Quizzes must be completed prior to the expiration dates listed in this syllabus. Quiz grades and answers will be released after the deadline of each quiz. Specific questions regarding the quizzes may be addressed to the instructor. Quizzes will not be made up if missed and a zero (0) will be recorded. No extra credit activities are available.

If students have technical difficulties during a quiz, they should use the 'Help' link located on the top toolbar within D2L to contact the MSU Information Systems Support Staff and send an email to the course instructor explaining what happened.

Dropbox Project Assignments (35%)

Units 2, 3, 4, 6, and 7 each contain a unique group project assignment. Specific instructions regarding each assignment can be found in the unit supplemental notes within D2L. It is very important to read the instructions carefully and review the grading rubric for each assignment as well.

If a student fails to participate in the group assignment, then that student's grade will be affected by assigning a "0" for that assignment. All assignments must be submitted via the appropriate dropbox within D2L by the group leader using the Workgroup Activity Assignment Form.

The final exam is a timed, comprehensive exam consisting of 40 multiple choice questions. The students will have 90 minutes to complete the exam. The course uses an off-site proctoring company called Proctor U. Students must schedule the final exam through Proctor U by September 14, 2020. Please read the Proctor U instructions under Course Introduction. There is a minimum $25 charge for the exam and the price will increase the later the exam is scheduled.

Proctor U Specifications:

PC Users: A well-working computer running Windows XP or higher with 1024 MB of RAM or higher.
Mac Users: A well-working computer running Mac OS X or higher.
A web cam with 640x480 video pixel resolution (web cams built into laptops or monitors are acceptable).
Headphones or working speakers connected to the computer.
A microphone connected to the computer (your web cam or laptop may already have one built into it).
A reliable high speed internet connection (minimum 768 Kbps/384 Kbps Download/Upload).
A web browser with Adobe Flash Player installed.

Evaluation

Discussion Board 10%

Quizzes 30%

Project Assignments 35%

Comprehensive Final Exam 25%

Grading Scale

A = 90-100

B = 80-89

C = 70-79

D = 60-69

F = 59 and below

Attendance

This is an online course, and as such, there are no mandatory sessions. However, the students should be vigilant in checking their email and logging onto D2L. Regular checks will ensure messages from the instructor and fellow students are received in a timely manner. This course is on a schedule that will be strictly adhered to (see table below). The instructor will be available to meet face-to-face with any student who is interested. Please email the instructor to schedule an appointment.

The last opportunity to drop this course with a grade of "W" is 4:00 pm on November 30, 2020. Refer to the Undergraduate Bulletin for details about receiving a grade of "Incomplete" in a course. In an emergency or extenuating circumstance, a student may request a grade of "Incomplete" in a course before grades are submitted. If the instructor grants the "Incomplete," the student has until thirty (30) days after the beginning of the next long semester to complete the course requirements. If the student does not complete the course requirements within the deadline, the grade of "Incomplete" will automatically convert into a grade of "F."

Note: You may not submit a paper for a grade in this class that already has been (or will be) submitted for a grade in another course, unless you obtain the explicit written permission of me and the other instructor involved in advance.

Plagiarism is the use of someone else's thoughts, words, ideas, or lines of argument in your own work without appropriate documentation (a parenthetical citation at the end and a listing in "Works Cited")-whether you use that material in a quote, paraphrase, or summary. It is a theft of intellectual property and will not be tolerated, whether intentional or not.

Student Honor Creed

As an MSU Student, I pledge not to lie, cheat, steal, or help anyone else do so."

As students at MSU, we recognize that any great society must be composed of empowered, responsible citizens. We also recognize universities play an important role in helping mold these responsible citizens. We believe students themselves play an important part in developing responsible citizenship by maintaining a community where integrity and honorable character are the norm, not the exception.

Thus, We, the Students of Midwestern State University, resolve to uphold the honor of the University by affirming our commitment to complete academic honesty. We resolve not only to be honest but also to hold our peers accountable for complete honesty in all university matters.

We consider it dishonest to ask for, give, or receive help in examinations or quizzes, to use any unauthorized material in examinations, or to present, as one's own, work or ideas which are not entirely one's own. We recognize that any instructor has the right to expect that all student work is honest, original work. We accept and acknowledge that responsibility for lying, cheating, stealing, plagiarism, and other forms of academic dishonesty fundamentally rests within each individual student.

We expect of ourselves academic integrity, personal professionalism, and ethical character. We appreciate steps taken by University officials to protect the honor of the University against any who would disgrace the MSU student body by violating the spirit of this creed.

Written and adopted by the 2002-2003 MSU Student Senate.

The Americans with Disabilities Act (ADA) is a federal anti-discrimination statute that provides comprehensive civil rights protection for persons with disabilities. Among other things, this legislation requires that all students with disabilities be guaranteed a learning environment that provides for reasonable accommodation of their disabilities. If you believe you have a disability requiring an accommodation, please contact the Disability Support Services in Room 168 of the Clark Student Center, (940) 397-4140.

The professor considers this classroom to be a place where you will be treated with respect as a human being - regardless of gender, race, ethnicity, national origin, religious affiliation, sexual orientation, political beliefs, age, or ability. Additionally, diversity of thought is appreciated and encouraged, provided you can agree to disagree. It is the professor's expectation that ALL students consider the classroom a safe environment.

All instructors in the Department have voicemail in their offices and MSUTexas e-mail addresses. Make sure you add your instructor's phone number and e-mail address to both email and cell phone lists of contacts.

All students seeking a Bachelor's degree from Midwestern State University must satisfy a writing proficiency requirement once they've 1) passed the 6 hours of Communication Core and 2) earned 60 hours. Students may meet this requirement in one of three ways: by passing the Writing Proficiency Exam, passing two Writing Intensive Courses (only one can be in the core), or passing English 2113. If you have any questions about the exam, visit the Writing Proficiency Office website at https://msutexas.edu/academics/wpr, or call 397-4131.

Senate Bill 11 passed by the 84th Texas Legislature allows licensed handgun holders to carry concealed handguns on campus, effective August 1, 2016. Areas excluded from concealed carry are appropriately marked, in accordance with state law. For more information regarding campus carry, please refer to the University's webpage at https://msutexas.edu/campus-carry/rules-policies.

If you have questions or concerns, please contact MSU Chief of Police Patrick Coggins at patrick.coggins@msutexas.edu.