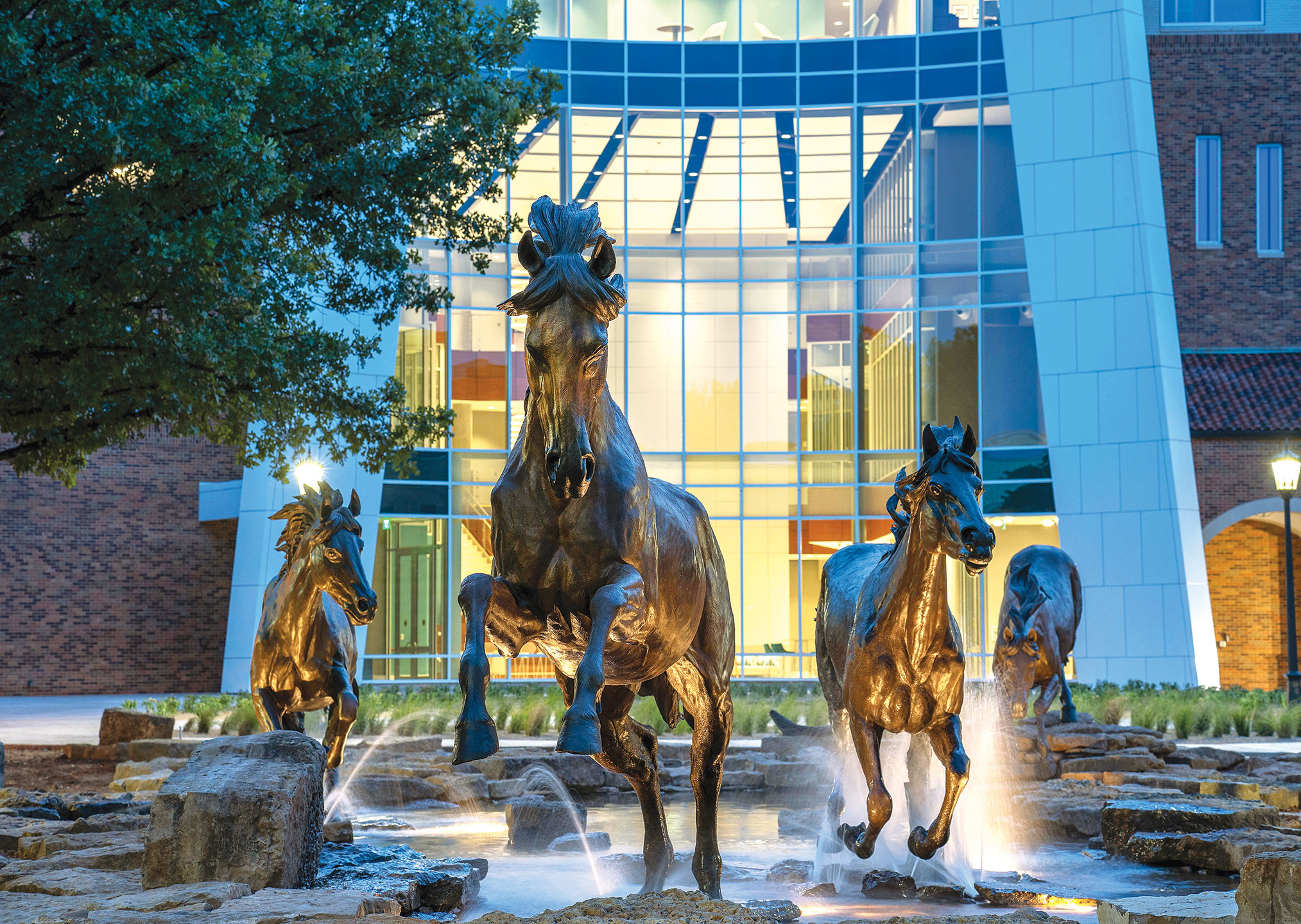 Course : Teaching Reading/Language Arts
Final Exam Day/Time

Wednesday, May 13, 2020

12:00 am
Course Competencies/Learning Outcomes:

Block B (READ 4203/4213) builds mastery of the following competencies/learning outcomes (Competencies are aligned to the TExES Examination Frameworks/Standards, EC-6 Core Subjects-ELAR, STR, Educator Standards, Technology Standards for Teachers, INTASC, and the International Literacy Association standards for Literacy Professional). Block B courses are taken concurrently. Knowledge and implementation of PK guidelines and K-6 TEKS geared instruction is required:

Design content area ELAR classroom instruction.
Deliver content area ELAR classroom instruction.
Demonstrate knowledge of students and student learning.
Demonstrate ELAR content expertise.
Create a safe, accessible, and engaging learning environment.
Demonstrate data-driven practice.
Demonstrate professional practices and responsibilities.
Demonstrate and apply ELAR content knowledge related to phonological and phonemic awareness.
Demonstrate and apply ELAR content knowledge related to print concepts and alphabetic knowledge
Demonstrate and apply ELAR content knowledge related to phonics and word identification skills
Demonstrate and apply ELAR content knowledge related to syllabication and morphemic analysis.
Demonstrate and apply ELAR content knowledge related to reading fluency.
Demonstrate and apply ELAR content knowledge related to vocabulary development.
Demonstrate and apply ELAR content knowledge related to comprehension development
Demonstrate and apply ELAR content knowledge related to comprehension of literary texts.
Demonstrate and apply ELAR content knowledge related to comprehension of informational texts.
Demonstrate and apply ELAR content knowledge related to writing, the writing process, and emergent literacy.

Focus of the Course:

Learning and the Language Arts/Scientifically-based instruction

Teaching and Assessing the Language Arts

Emergent Literacy (Early Reading Instruction: Phonological Awareness/Phonemic Awareness/Phonics)
Promoting Comprehension (Reader and and Text Factors)
Oral Language: Listening and Talking
Written Language: Reading and Writing (Comprehension/Fluency)
Visual Language: Viewing and Visually Representing (Comprehension)
Vocabulary (Vocabulary)
Comprehending and Composing Stories (Comprehension/Fluency)
Investigating Non-Fiction (Comprehension/Fluency)
Fluency
Learning to Spell Conventionally
Language Tools: Grammar and Handwriting
Differentiated ELAR Instruction

Teacher candidates will demonstrate the performances essential for meeting the reading/literacy instructional needs of all students.

Reading education professionals are committed to using research-based instruction.
Reading education professionals assess learner needs to plan appropriate instruction.
Reading education professionals are aware that best assessments are conducted over time and compare the child's past and present abilities.
Reading education professionals display positive dispositions related to reading and the teaching of reading.
Reading education professionals value students' interests, reading abilities, and backgrounds as foundations for the reading and writing program.
Reading education professionals model reading and writing enthusiastically as valued lifelong activities.
Reading education professionals help parents find ways to support learning begun at school in enjoyable ways.

Total Points for Final Grade:

| Grade | Points |
| --- | --- |
| A | 90-100 |
| B | 80-89 |
| C | 70-79 |
| D | 60-69 |
| F | Less than 60 |

Assignments/Grading Procedures:

Thematic Unit (52%): Fifty-two percent of the intern's final grade will be determined by the preparation and organization of the thematic unit. See detailed handout and rubric in D2L.) The intern will plan and organize an integrated thematic unit with lessons (including technology integration); activities for learning centers, knowledge of student learning, and related content areas. TEKS are to be included for each lesson in the unit plan. Specific instructions for the thematic unit will be given in class and posted on D2L. Please submit an electronic copy via D2L Dropbox.

Revel Quizzes/Activities (18%): Eighteen percent of the intern's final grade will be determined by participation/completion of assigned Revel activities and performance on quizzes based on readings and case studies in the Revel system. This material is directly linked to our text. You will need to sign up for the REVEL course via the digital code that accompanied your textbook. Instructions for sign-up will be sent through email and D2L News feed. Revel will be counted in both methods courses.

Practice STR Exam/Certify Teacher (15%): Fifteen percent of the intern's final grade will be determined by participation/completion of the Certify Teacher practice (STR) flash cards/study mode and performance on the practice exam. Failure to complete (participate in) the Certify Teacher study mode, flash cards, and practice exam will result in a failing grade or incomplete for Block B. Students must complete the process below and are not required to pass the Certify teacher content exam to pass Block B. The process is as follows: (1) Exam Mode: take practice content exam through Certify Teacher; (2) Pass: passing the exam (80% in all competencies) will require no further action and 15% of your grade will be determined by the score on the exam; Fail: failing the exam, will require students to go through the study tracker, flash card study materials, and study mode (note: exam may not be attempted again without going through the flash cards and then study mode); (3) Retake exam: Once you have completed the study tracker (total study mode and flash cards must equal at least 10 hours), you may retake the exam. After study tracker is completed retake the exam. Pass or fail, 15% of the final exam grade will be determined by your score on the final attempt. All students (pass or fail) have the option of repeating the process multiple times by reviewing the flash cards and study mode again and retaking the exam to improve their score. Retaking the exam mode over and over until a passing score is achieved will result in no credit for the course. Specific information on how to access Certify Teacher will be given on the first day of class. To be released for the actual TEXES exam requires passing the practice exam with an 80% in each domain/competency and must be completed prior to clinical teaching. I strongly encourage students to complete the WCOE testing protocols in Block B. WCOE TEXES Testing Policy

Class Activities/Participation (15%): Although the course requires a thorough understanding of the readings and assignments, participation in online class discussions/activities/modules will provide the basis for learning and assessment. Revel completion, online participation, field experience, and in person attendance is very important.

Attendance Policy:

Be on time and don't leave early. Students who arrive after class has started or leave before it ends will be counted absent. Class attendance and promptness to class are crucial to successful completion of this course. Points will be deducted for each absence as follows: 1 absence = 2 points from final grade; 2 absences = an additional 3 points from final grade; 3 absences = an additional 5 points from final grade; 4 absences = dropped from the class. For example, if you have two absences, five points will be deducted from your final grade. Incomplete or time logs not submitted will result in an incomplete or failure for Block B. Unprofessionalism or dismissal from the school site will result in a Block B failure and a fitness for the profession referral.

Participation and Late Work Policy:

Please complete all assignments on time. Assignments will be deducted by 25% for each late day. Complete readings prior to class schedule to ensure participation in course related content and activities.

Note: You may not submit a paper for a grade in this class that already has been (or will be) submitted for a grade in another course, unless you obtain the explicit written permission of me and the other instructor involved in advance.

Plagiarism is the use of someone else's thoughts, words, ideas, or lines of argument in your own work without appropriate documentation (a parenthetical citation at the end and a listing in "Works Cited")-whether you use that material in a quote, paraphrase, or summary. It is a theft of intellectual property and will not be tolerated, whether intentional or not.

Student Honor Creed

As an MSU Student, I pledge not to lie, cheat, steal, or help anyone else do so."

As students at MSU, we recognize that any great society must be composed of empowered, responsible citizens. We also recognize universities play an important role in helping mold these responsible citizens. We believe students themselves play an important part in developing responsible citizenship by maintaining a community where integrity and honorable character are the norm, not the exception.

Thus, We, the Students of Midwestern State University, resolve to uphold the honor of the University by affirming our commitment to complete academic honesty. We resolve not only to be honest but also to hold our peers accountable for complete honesty in all university matters.

We consider it dishonest to ask for, give, or receive help in examinations or quizzes, to use any unauthorized material in examinations, or to present, as one's own, work or ideas which are not entirely one's own. We recognize that any instructor has the right to expect that all student work is honest, original work. We accept and acknowledge that responsibility for lying, cheating, stealing, plagiarism, and other forms of academic dishonesty fundamentally rests within each individual student.

We expect of ourselves academic integrity, personal professionalism, and ethical character. We appreciate steps taken by University officials to protect the honor of the University against any who would disgrace the MSU student body by violating the spirit of this creed.

Written and adopted by the 2002-2003 MSU Student Senate.

The Americans with Disabilities Act (ADA) is a federal anti-discrimination statute that provides comprehensive civil rights protection for persons with disabilities. Among other things, this legislation requires that all students with disabilities be guaranteed a learning environment that provides for reasonable accommodation of their disabilities. If you believe you have a disability requiring an accommodation, please contact the Disability Support Services in Room 168 of the Clark Student Center, (940) 397-4140.

The professor considers this classroom to be a place where you will be treated with respect as a human being - regardless of gender, race, ethnicity, national origin, religious affiliation, sexual orientation, political beliefs, age, or ability. Additionally, diversity of thought is appreciated and encouraged, provided you can agree to disagree. It is the professor's expectation that ALL students consider the classroom a safe environment.

All instructors in the Department have voicemail in their offices and MSUTexas e-mail addresses. Make sure you add your instructor's phone number and e-mail address to both email and cell phone lists of contacts.

All students seeking a Bachelor's degree from Midwestern State University must satisfy a writing proficiency requirement once they've 1) passed the 6 hours of Communication Core and 2) earned 60 hours. Students may meet this requirement in one of three ways: by passing the Writing Proficiency Exam, passing two Writing Intensive Courses (only one can be in the core), or passing English 2113. If you have any questions about the exam, visit the Writing Proficiency Office website at https://msutexas.edu/academics/wpr, or call 397-4131.

Senate Bill 11 passed by the 84th Texas Legislature allows licensed handgun holders to carry concealed handguns on campus, effective August 1, 2016. Areas excluded from concealed carry are appropriately marked, in accordance with state law. For more information regarding campus carry, please refer to the University's webpage at https://msutexas.edu/campus-carry/rules-policies.

If you have questions or concerns, please contact MSU Chief of Police at police@msutexas.edu.